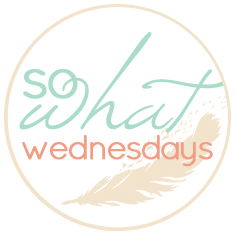 It's time for another So What Wednesday link up with Shannon over at
Life after I Dew.
Here's what I'm saying so what to this week. So what if:
-I came downstairs this morning after putting the baby down for his nap and immediately had some Coke. I know I'm supposed to be giving it up but this mama hasn't been sleeping well and I needed both caffeine and sugar today!
-I am not excited about working Friday. Life in a pharmacy the day after a holiday (on which we are closed) is crazy! Plus we will be short handed. Oh yeah, and two of the pharmacists (yours truly included) have been there about 6 weeks.
-Two of my best friends came to visit this weekend and I miss them more now that they are gone than I did before they came to visit. My husband says I've been depressed since they left.
-I am dreaded the drive to Bill's parents house Friday after I get off work. Late night drives aren't my thing...at all.
-I want a new haircut but have no idea what to do to it. My hair frizzes so much since I've had the baby. I don't remember it being this bad before I had him.
-I ordered William's invitations for his birthday. I got them from Etsy and they are so cute. Thank you so much to the wonderful reader who recommended I look there. I can't wait until the lady sends me the proof!
-I've had my two Netflix movies for over 3 weeks now. Guess I'm not getting my money's worth this month.
-Every time I wash my car it rains. White car plus wet roads equals brownish car.
-I got new plants for my fish tank and the fish keep digging them all up so the tank looks worse than it did before I worked on it.
-My husband's furlough due to this sequester business started this week. While I'm not excited about loosing some of our income, having him home earlier and on all Fridays will be nice. Got to look on the bright side!