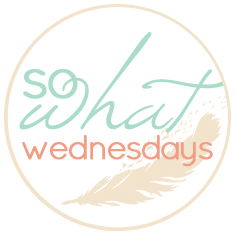 It's Wednesday again so that means I'm linking up with Shannon over at
Life after I Dew
for So What! Wednesday. Here's what I'm saying So What to this week:
So what if my living room looks like a toy store exploded in it. The baby needs A LOT of toys to play with...apparently.

I told myself I was going to vacuum and mop the floors while the baby napped. He is currently asleep while I'm typing this.

I am sad that I finished Gone Girl last week. It was awesome! I've picked up a couple of other books I thought about reading in the past couple of days but I don't feel like either are going to be as good so I just put them back down.

The weather is driving me crazy. Last weekend it was near 80 here; tomorrow snow is in the forecast.

I watched Dancing with the stars for the first time ever this week! I know I'm way behind but it was pretty good. I'll probably watch it again. Although I do feel like the Bachelor is seriously trying to drag out his 15 minutes of reality show fame!

I have over 800 photos on my iPhone!

I filled out an NCAA basketball bracket for the first time ever! I secretly want it to do better than my husband's bracket since I don't follow college basketball and he does! Go Louisville!

I still haven't seen Les Miserables but I really want to...come on netflix.

Speaking of netflix, when is Pretty Little Liars season 3 going to show up on there?? It seems to take a long time for some shows. Others are available the week after they wrap--of course these are not the shows I want to watch.
That's all I've got for this week!