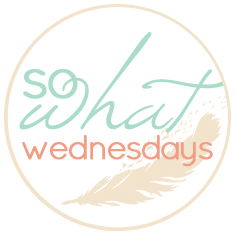 Today I'm linking up with
Shannon
for another So What! Wednesday.
This week I'm saying so what if:
-Pretty Little Liars Season 3 came out on Netflix this week. I am already on episode 14. I have a problem and I know it. Basically, all I've done during nap time and when he goes to bed at night is watch this show!
-I am an idiot. Last night I drove home in the dark without my glasses. For those of you who know me, this was a bad idea. I am pretty much blind in the dark. When I left it was daylight but when I came home it wasn't. Luckily, Panera is only 5 minutes from my house.
-I want to rip out my front flowerbed and redo it. After doing my brother-in-laws this weekend I don't like mine and want to redo it. Guess that will have to wait until next year.
-I am reading a book written by a friend of my brother in law. I really wanted to like this book because he is a nice guy but I don't. Now I'm afraid I'll run into him somewhere and he'll ask if I like his book. I won't be able to lie about this. Honestly, it started out good (for like 20 pages) and then it got extremely confusing and hard to follow. I really hope it picks up soon.
-My son eats better than me. Yesterday for lunch he had leftover grilled chicken with fresh peas, steamed squash and zucchini. I ate a microwavable lasagna. Sad I know, but at least he's going to be healthy.
-I don't want to go to work tomorrow. Oh well, after Thursday, Friday, next Monday and Tuesday I'm off until July 5th!