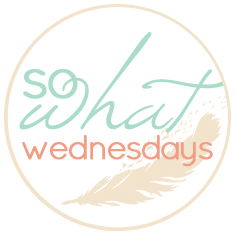 This week I'm saying so what if:
-I got a job yesterday and I'm more afraid of how the baby will handle it than the job itself.
-Speaking of my new job, I went in for my drug test today and they took 2 tubes of blood! I hate needles--HATE THEM! This was my least favorite part of the hiring process--worse than interviewing.
-My husband's cousin and his wife are on their way here now and have I don't anything to the house--NO! Oh well, I didn't promise a super clean house just a bed to sleep in.
-We had Mexican food last night-cilantro lime chicken with Spanish rice and black beans. We have having Mexican food again tonight--taco salads. Don't know why I scheduled it that way when I was doing our meal plan. On the plan for tomorrow-leftovers! I'm probably going to change that. I love Mexican but 3 nights in a row might be a bit much even for me!
-I got the final book in the Sookie Stackhouse series yesterday in the mail and I've almost finished it. I am sad about this.
What are you saying So What! to this week?