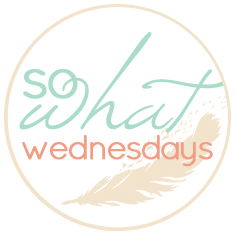 This week I'm saying so what if:
-I'm going to the grocery store today and Coke is the number one item on my list. I haven't been sleeping well--this momma needs some caffeine!
-my husband's parents are coming this weekend and I've done nothing to prepare.
-I haven't cleaned the fans in our living room or bedroom since the baby was born. They are gross and really high up there!
-I wish I could afford to pay someone to come do all the cleaning jobs around the house that I hate--see item above.
-I watched a lot of the Teen Mom 2 marathon this week. Seriously girls! Janelle: one of the worst moms ever! I feel so sorry for her son. Chelsea: if your hair looks like a fried disaster no one will trust you to do their hair! Leah: what's the hurry to have baby 3 and husband 2! How old is she 20-21? Enough of that.
-I have been watching too much trash tv here lately during the baby's naps. See above.
-I have typed all of this on my blogger app (which I hate) bc the baby refuses to nap in his crib today for some reason and he's sleeping in my lap. I feel like we will never get naps to work. The majority of the (95%) require him to still be nursed to sleep.